Did you know that as many as four of the 12 athletes who have claimed the Most Valuable Player award in the history of the men's FIVB Volleyball Club World Championships will take part in the upcoming edition in Brazil, including the MVP of the very first edition of the 21st century back in 2009 Matey Kaziyski?
Here is more information about that and some other interesting numbers linked to club volleyball's premier event, set to take place from December 7 through 11 in Betim:
1989 – The inaugural edition of the men's Club World Champs was held in December 1989 in the Italian city of Parma with six participating teams – two from Brazil and one each from Italy, Japan, the Soviet Union and Tunisia. Tournament hosts Maxicono Parma triumphed as the first club world champions. USSR's CSKA Moscow took the silver and Brazil's Pirelli Sao Paulo claimed the bronze.
60 – A total of 58 clubs from 20 different countries (the Soviet Union and Russia counting as one) and all five continental confederations have participated in the men's Club World Championships so far. There will be two newcomers at the 2022 edition and that number will rise to 60. Italy's Sir Safety Susa Perugia and Brazil's Volei Renata of Campinas are the teams about to make their debut.
19 – Italy is the country whose teams have collected the highest number of Club World Championship podiums. Clubs from the southern European country have earned a total of 19 medals, including 10 gold, four silver and five bronze medals. Next with 10 medals each are Brazil (4, 4, 2) and Russia (2, 4, 4).
17 – Betim 2022 will be the 17th edition of the men's Club World Champs. The competition has been organised annually since 1989, with an interruption from 1993 through 2008 and another in 2020, due to the coronavirus pandemic.
10 – A total of 10 matches, two a day across five days, will be played at the 2022 Club World Championship. The pool stage of the tournament will feature six games (two round-robin pools of three teams each). There will be two semifinals, a third place match and a final.
9 – Two clubs hold the record for the highest number of participations in the Club World Champs. Italy's Trentino Itas of Trento and Brazil's Sada Cruzeiro Volei of Belo Horizonte played at nine editions of the tournament each and both are about to make their 10th appearance.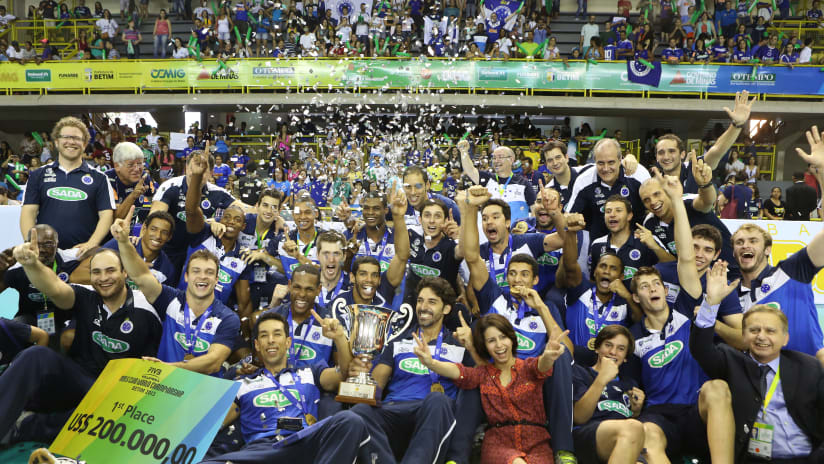 8 – Teams from eight different countries have medalled at the Club World Championships: Argentina, Brazil, Greece, Iran, Italy, Qatar, Poland and Russia.
6 – Six teams will compete at the 2022 Club World Championship. The tournament was played with that number of participants back at its first edition in 1989 and then again in 2015 and in 2021.
5 – Trentino Volley is the most decorated club in the history of the Club World Champs. The Italian team have won the title a total of five times, in addition to three bronze medals. Trentino Itas target their sixth title or at least their ninth medal as they take part in Betim 2022. Next with the most trophies are Brazil's Sada Cruzeiro, with four.
4 – A total of four countries have hosted the men's Club World Championships. Brazil is about to welcome the world's elite teams for the eighth time. Qatar organised four editions of the competition. The competition was held in Europe a total of five times – three times in Italy and twice in Poland.
4 – Italian outside hitter Osmany Juantorena was honoured as the Club World Championship Most Valuable Player a record-high four times – three times as a player of Trentino and once as a member of Italy's Lube Civitanova. No other player has earned the MVP award more than once, but four athletes have the opportunity to achieve this at Betim 2022: 2009 MVP Matey Kaziyski of Bulgaria, who plays for Trentino, and three Sada Cruzeiro players – 2013 MVP Wallace De Souza of Brazil, 2016 MVP William Arjona of Brazil and 2021 MVP Miguel Angel Lopez of Cuba.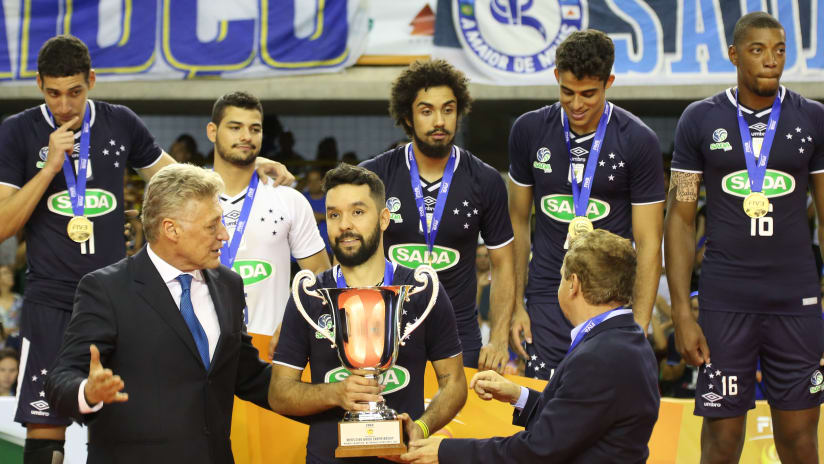 ---
This article is shared as part of our Fair Dealing Policy. For the original article, please visit: https://en.volleyballworld.com/volleyball/competitions/club-world-championship-men-2022/news/men-s-club-world-champs-by-the-numbers