Melissa and Brandie up to a promising start at Doha Elite16
The Canadian Olympians end their first day of partnership with a win and a loss
Published 05:21, 02 Feb 2023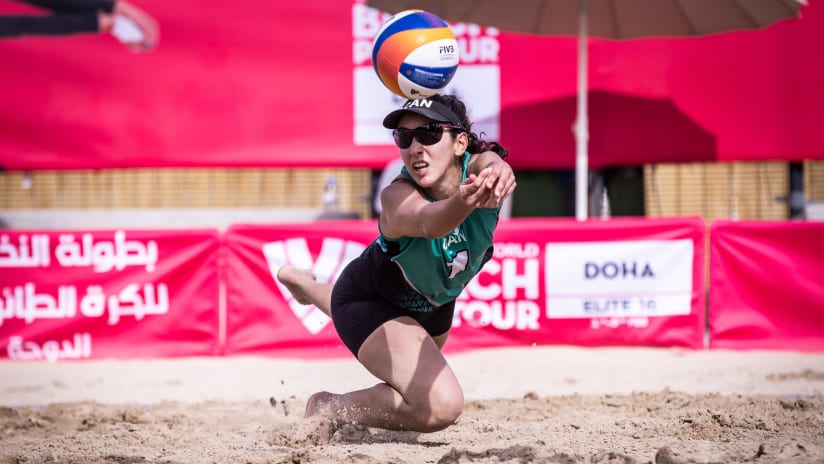 The debut of the new Canadian team formed by Melissa Humana-Paredes and Brandie Wilkerson was one of the storylines of the first day of the main draw of the Volleyball World Beach Pro Tour Doha Elite16 event, and the Olympians delivered a promising start to their partnership at the Aspire Park sports complex on Thursday.
After only a few months of practise, Melissa and Brandie, who are both 30, had solid performances in both of their Pool B matches in Doha, ending the day with a win and a loss and moving closer to the elimination rounds in Qatar. The tournament in Doha is the first at the international level in which teams can add points to their Olympic rankings that will determine the duos qualified for the Paris 2024 Games.
Longtime friends, the Canadians had a solid relationship before teaming up as they not only played for the same college team at York University in Toronto, but also were with the Canadian beach volleyball team at the Rio 2016 Games as alternates.
After several years wondering what a partnership between them could produce, the Tokyo Olympians got the first answers on Thursday, when they topped Brazilians Andressa Cavalcanti and Vitoria Rodrigues 2-0 (21-15, 21-15) and pushed recently-crowned Beach Pro Tour champions Kelly Cheng and Sara Hughes of the United States to three sets (12-21, 21-18, 15-13) but eventually fell in Doha.
"Winning our first match was like a bonus," Brandie explained. "We just stuck to what we were practising and feeling. There was a lot of confidence coming from our side just from preparation. We're still feeling each other out, but as long as we do what we need and want to do, the results are going to show. We've been wanting to play so much and this is a very special moment for us."
Melissa/Brandie vs. Andressa/Vitoria – Match Highlights
Before their union, Melissa and Brandie both had successful stints with their former partners. Melissa won the 2019 FIVB Beach Volleyball World Championship with Sarah Pavan, her partner at the Tokyo Games, while Brandie represented Canada in the Japanese capital with Heather Bansley before switching to Sophie Bukovec in 2022 and collecting silver at the World Championship.
Doha marks the start of what both expect to be an exciting period in their careers and, because of that, the tournament was a highly-anticipated one for them.
"I feel like we've been working really hard for the last few months, but haven't had a lot of competition, so we were itching to play and put it all together," Melissa reflected. "There were both excitement and nerves and we're just so happy to have come together as we did. I've been so excited to play with Brandie and now I got the chance to do it, so it's like a dream."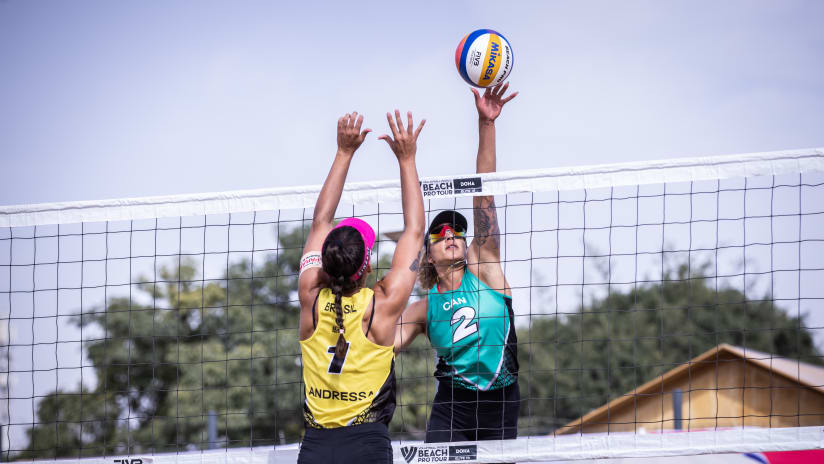 With a win and a loss, the Canadians are in third place in Pool B. On Friday, they will play undefeated Swiss pair Nina Brunner and Tanja Hüberli in their final pool play match and will earn a place in the elimination rounds with another win.
Pool A was the only other to have each team on the court twice on Thursday and Dutch team Katja Stam and Raisa Schoon are the only duo to remain undefeated – they topped reigning world champions Eduarda 'Duda' Lisboa and Ana Patricia Ramos of Brazil and Karla Borger and Sandra Ittlinger of Germany.
The Brazilians share second place in the pool with Latvians Tina Graudina and Anastasija Samoilova with a win and a loss, while the Germans have dropped both of their matches and are fourth.
Germany's Cinja Tillmann/Svenja Müller and USA's Taryn Kloth/Kristen Nuss got a head start in Pool C with victories over Americans Terese Cannon and Sarah Sponcil and Canadians Sarah Pavan and Sophie Bukovec, respectively.
Muller/Tillmann vs. Cannon/Sponcil – Match Highlights
In Pool D, Australia's Taliqua Clancy/Mariafe Artacho and Brazil's Carolina Salgado/Barbara Seixas were the most successful teams on the opening day. The Australians topped Brazilians Talita Antunes and Thamela Coradello in two sets while Carol and Barbara needed all three to overcome Czechs Barbora Hermannova and Marie-Sara Stochlova.
The pool play stage will be completed on Friday, with another 12 matches for the women. The top three teams in each pool will move forward to the elimination rounds with the pool winners advancing directly to the quarterfinals and the second and third-placed duos playing in the Round of 12.
---
This article is shared as part of our Fair Dealing Policy. For the original article, please visit: https://en.volleyballworld.com/beachvolleyball/competitions/beach-pro-tour/2023/elite16/doha-qat/news/melissa-and-brandie-up-to-a-promising-start-at-doha-elite16