Reigning world champions Eduarda 'Duda' Lisboa and Ana Patricia Ramos had a week to remember as the Brazilians won the Volleyball World Beach Pro Tour Elite16 event at home in Uberlandia on Sunday and extended their outstanding run this season.
Playing at Praia Club, where they train, the pair defeated compatriots Andressa Cavalcanti and Vitoria Rodrigues in the tie-breaker (21-17, 27-29, 15-11) to secure their third gold medal this season. Veterans Barbara Seixas and Carol Salgado completed the first podium sweep at the Elite16 level by a single country, and took bronze.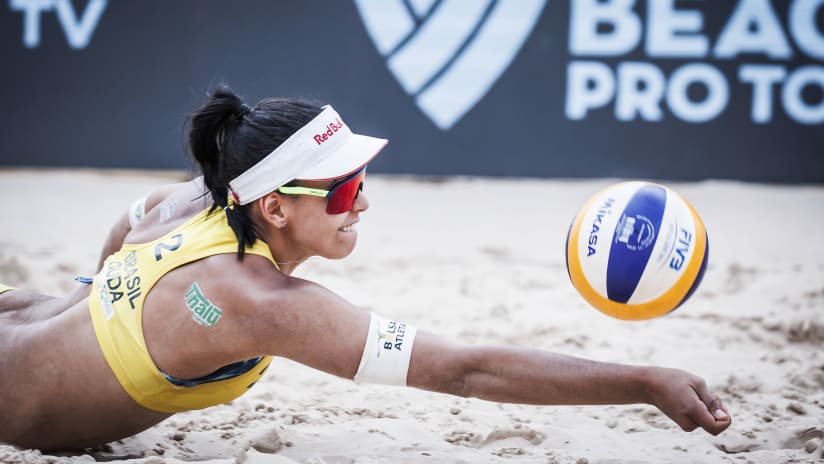 The winners of Rome's FIVB Beach Volleyball World Championships and of the Gstaad Elite 16, Duda and Ana Patricia have made their sixth-straight international podium appearance this week in Uberlandia. Besides the three golds, the world champions also took bronze at Elite16 tournaments in Jurmala, Paris and Cape Town.
"This tournament was another important step as we continue to build our team," Ana Patricia commented. "We're very happy with what we've done so far, but we know we can do a lot more. It was an important experience for us as I was tested during the tournament, but Duda helped me a lot and it was great for our growth. It was amazing to play here in Uberlandia, a city that welcomed us so well at the start of the year."
Since the Jurmala Elite16 event, held at the start of June, the Brazilians have won 35 of the 38 matches they have played. This week, they took the title with six victories and just one set dropped.
"It was a magic week for us," Duda said after the win. "We practise here at Praia Club and to have the opportunity to play a big tournament like this here in front of the people who see us train every day is amazing. It's been incredible, we couldn't be any happier. It took us a little while to get our team going at the start of the season, but we had the patience to find our rhythm and our chemistry as partners."
After some lead changes at the start of the first set of the final, the world champions took control at 10-9, when Ana Patricia fired an ace. A few plays later, the blocker converted a transition play to score 14-11 and Duda and Ana Patricia never looked back after that. Despite some good moments from Andressa and Vitoria, they took the set 21-17 with a block from Ana Patricia.
Duda/Ana Patricia vs. Andressa/Vitoria – Match Highlights
The world champions took control of the second set at 6-4, when Duda got a huge dig and scored with a smart shot. Ana Patricia and her seemed poised for a two-set victory when they created a 19-16 lead, but their opponents kept fighting. Back-to-back blocks from Andressa on Ana Patricia evened the score and after several lead changes and breathtaking rallies, Vitoria spiked to have her team take the set at 29-27.
The tie-breaker was even until Ana Patricia scored off a transition play to give her team a two-point lead at 7-5. An offensive error by Vitoria then placed the world champions in control, and they remained ahead until the end, when Duda hit a spectacular line shot to secure the 15-11 win.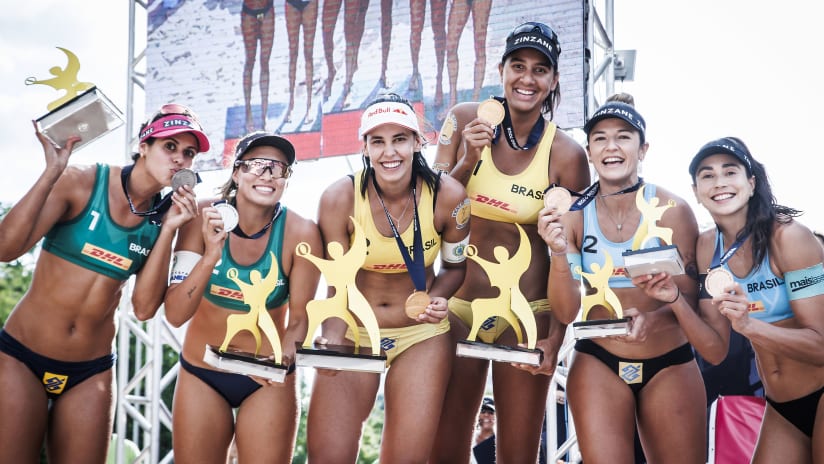 Barbara and Carol won an exciting three-set (21-19, 17-21, 15-13) battle against fellow Brazilians Taiana Lima and Hegeile 'Hege' Santos to take the third podium spot in Uberlandia. It was the fifth Beach Pro Tour medal won by the veterans in 2022 after golds at the Tlaxcala and Doha Challenges and silvers at the Jurmala and Gstaad Elite16s.
"It was my first time playing here in Uberlandia and the fans were amazing the entire week," Carol said. "It's always tough against Taiana and Hege and I don't think we were in a good day, but we fought a lot and I'm happy and proud of how we managed to win the match today and make it to the podium."
Carol/Barbara Highlights vs. Taiana Lima/Hegeile
After Uberlandia, the last Beach Pro Tour Elite16 event on the 2022 calendar will take place in Torquay, Australia, from November 29-December 3. Torquay will also host a Challenge event in the week before that.
---
This article is shared as part of our Fair Dealing Policy. For the original article, please visit: https://en.volleyballworld.com/beachvolleyball/competitions/beach-pro-tour-2022/events/elite16/uberlandia-brazil/news/duda-and-ana-patricia-claim-home-gold-in-uberlandia